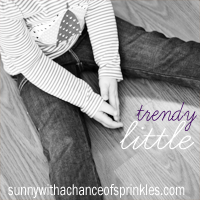 Today I am linking up with Chelsea at
Sunny with a Chance of Sprinkles
for the first Trendy Little link-up! The idea is to link-up posts of your trendy, or just plain adorable, youngin!
Here is Emma Jane, my sweet toddler, wearing a TOTAL girl outfit. We went to Dunkin Donuts for her first time last month in this. Classy, eh? And of course she demolished her white onesie with a Strawberry Sprinkle Valentine's donut. But it was worth it... for me anyways. Let's just say this little girl is not a fan of donuts, or anything particularly sweet. I can't complain, because that will save me loads of money in doctor and dentist bills!
I hope you are having a great week and make sure to browse around the other cute Trendy Little posts on Chelsea's page!
Love & Joy,

Leanne